Skagit Eagle Tour 3 Hour
Our 3 Hour Eagle Tour begins in Rockport WA and is our most popular tour. It is a quiet serene float and a great way to experience the beauty of the Skagit. Whether you are a nature lover, amateur or professional photographer this tour will leave you with a lasting impression of the Skagit and the migrating eagles that return every year. We meet at Howard Miller Steelhead Park and from there we transport you up river by bus to Marblemount WA. Once we arrive in Marblemount we will get the boats in the water, fire the propane heaters off, have a brief safety meeting and then set off for an 8 mile drift through the Bald Eagle sanctuary. During your tour our experienced guide will give you information about the eagles, salmon runs and the intricate roles they play on this beautiful river.
Skagit River Eagle Watching
Rates:

$95.00 per person
+sales tax and fees.




You can convieniently purchase your tickets online or call us at:


360-510-1243

From November until the first week of February we operate 7 days a week, 2 trips per day. The morning float begins at 9:45 AM and ends at 12:45 PM. The afternoon float begins at 1:00 PM and ends at about 4:00 PM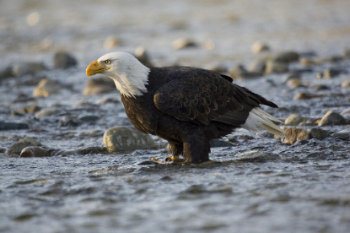 Beginning in November Bald Eagles start showing up for their annual migration from northern Canada and Alaska to feast on the dying fall salmon. The Skagit is home to the largest concentration of eagles in the lower 48 States. Some years we see up to 500 birds return to our valley, and during the peak of the migration it is common to see 100 to 200 plus birds in a 3 hour Skagit River Eagle Tour. The Skagit has diverse eco system and is one of the most pristine rivers in our state. It is one of the few rivers that has all 5 salmon species returning to it and is world renowned for its Steelhead and salmon runs. The Skagit is an incredibly beautiful river with majestic Snow capped mountains, lush evergreen trees and abundant wildlife.
Reservations are required. Book online or call our toll free number 888 675 2448 to reserve your seats.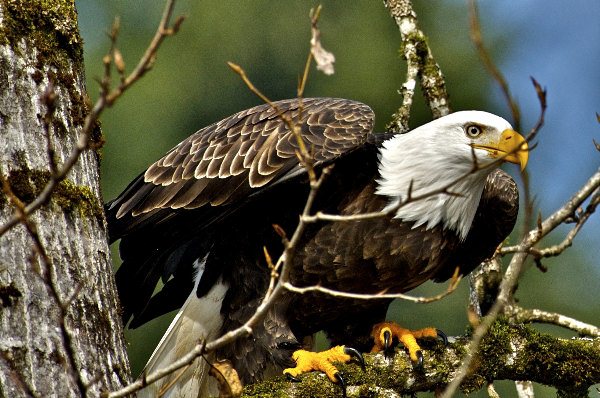 The Skagit Valley is home to Deer, Elk, Bear, Cougar, Beaver and many types of birds and waterfowl. Photo opportunities abound while on the river with breathtaking mountain scenery, large numbers of eagles feeding or perched on tree branches, or possibly a glimpse of some of the big game that is abundant in the forest lining the river. Be sure to view our Skagit Eagle Counts page to see our weekly report on river conditions, number of eagles in the sanctuary and photos of our recent tours.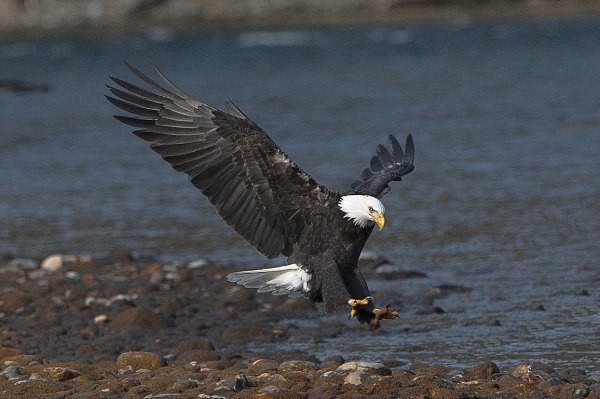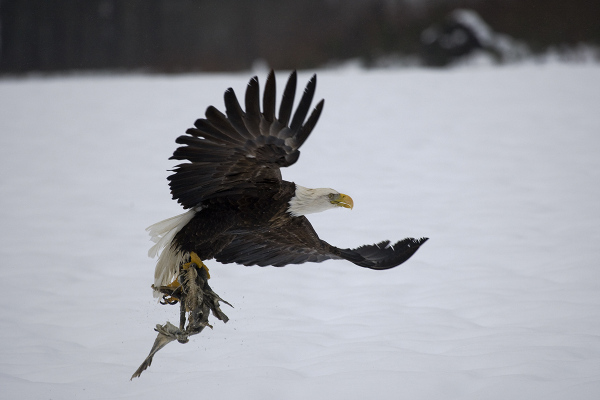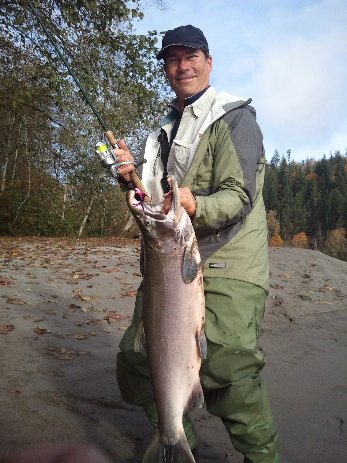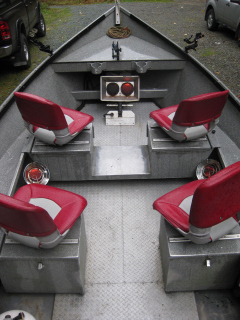 The majority of the Skagit Eagles begin showing up in mid to late November. With a few fall colors still in view and salmon still in the river this is a great time to take an eagle tour.
During the early season Eagle counts for a 3 hour float usually hover between 40 and 80 birds. The peak of the viewing is December and January with numbers topping 200 on many occasions throughout the season. There are still good viewing opportunities in February with numbers hovering in the 20 to 40 range. Our last float for the year is usually in the first half of February.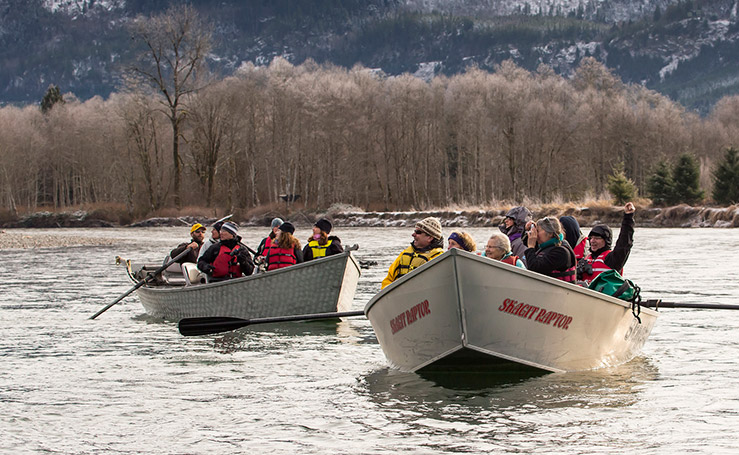 When you book a trip with us, we will send you easy driving directions to the boat launch with your confirmation. Upon arriving at the meeting place we will then transport you up river to the launching point where we will get the boats in the water, the propane heaters turned on high and the hot cocoa ready to serve for the trip. The tour takes 2.5 to 3 hours. To make reservations or purchase a gift certificate you can use our easy online booking or give us a call on our toll free number.
Dont forget to enter our Photo Contest!