Washington State offers some of the finest Salmon and Steelhead Fishing on the west coast. Let Skagit River Fishing Guide Service guide you on a exciting trip down the Skagit River, or one of the many other rivers in Washington State. Beautiful scenery is abundant in the Great Northwest from the Bald Eagles on the Skagit and Sauk, to the incredible mountain scenes on nearly all the rivers. Skagit River Excursions works hard to ensure that your fishing experience is something to be remembered long into the future. Salmon, Steelhead or Trout, we have the equipment and experience to get you hooked up! Give me a call or send me an e-mail and we can set up that Guided trip that you've been looking for.
Join Guide Wayne Ackerlund for a Guided fishing trip for Salmon, Trout and Steelhead on the Skagit and Sauk rivers, as well as steelhead and salmon fishing on the Olympic Peninsula rivers such as the Bogachiel, and Hoh.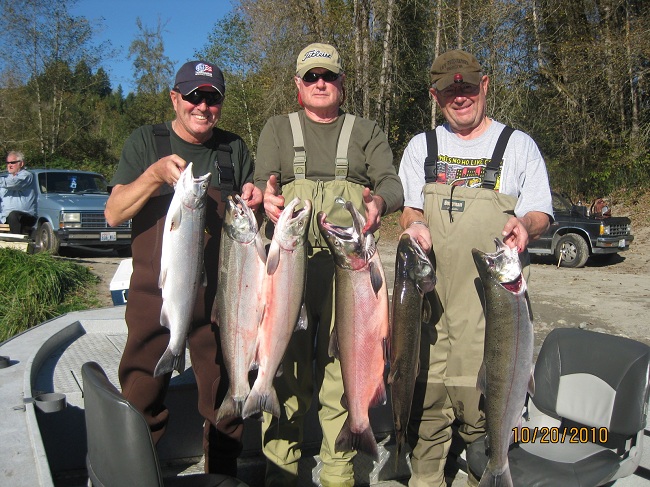 For large rivers such as the Skagit, Lewis or Cowlitz we use a 23 foot Fish- Rite jet sled. For the Sauk, and rivers over on the Olympic Peninsula we use a 20 foot Koffler drift-boat, which provides comfort and plenty of room to move around as well as the capacity to take 3 persons. All of our Boats have propane heat for your comfort.
Whether it's fishing for Steelhead or Salmon on the Skagit river, or searching for Chinook or Coho on many of other Washington rivers we are dedicated to providing exceptional customer service and putting you in the right place at the right time.
Here is our Fishing Schedule. Give us a call and we can get you scheduled for the trip you are interested in. Visit our Fishing Web site Skagitriverfishingguide.com for more info. You can also follow us on FaceBook for fishing reports and find out where we are currently fishing.
Skagit River System:
Chinook, June, July
Coho, September, October, November, December
Chum, November and December
Hatchery Steelhead, Late November, December, January, February
Wild Steelhead (Catch and Release), February, March, April
Dolly Varden, Year around
Sauk River System Wild Steelhead:
February, March, April
Pass lake (fly fishing)Trout Fishing: Year around
Lower Skagit River Cutthroat (fly fishing)
August, September, October, November, December.
Olympic Peninsula Rivers (salmon):
October, November, April, May
Olympic Peninsula Rivers (Steelhead):
November, December, January, February, March, April, May
Lewis river (Salmon)
Oct, Nov, April, May, June
Lewis river (Summer Steelhead)
April, May, June
Cowlitz river (Steelhead)
November, December, February, March, April
Cowlitz river (Salmon)
Oct, Nov, April, May
Columbia Springers:
April, May, June
Give us a call for more info about our salmon and steelhead trips in the puget sound are. You can also find more info on our fishing web site at skagitriverfishingguide.com