If you are looking for a place to overnight while in Skagit Valley, we offer accommodations courtesy of Ovenell's Heritage Inn. Skagit River Eagle Tours and Ovenell's Heritage Inn have teamed up to offer you these overnight packages. For larger groups or if you have special needs feel free to give us a call, we will do our best to accommodate you.
Couples and Family Scenic Packages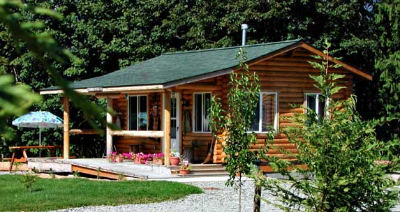 Are you looking for a romantic getaway? Try a relaxing overnight stay at Ovenell's Cabins and spend the weekend exploring our Valley. Included in the package is a trip down the Majestic Skagit river with Skagit River Eagle Tours. Spend 3 hours Viewing Eagles, beautiful scenery and local wildlife from a Heated 20 foot Drift Boat, which is kid friendly and has high back cushion seats. Hot drinks are provided on those cold winter days.

$280 and up (depending on tour and room type)
Group Scenic Package
For Large groups there is a guest house available and also the new Bear Hollow Lodge at Ovenell's. We can accommodate groups up to 20 persons. A group package includes an overnight stay and a 3 hour scenic float on the Skagit river.
Give us a call for special rates on Large groups.
Lodging & Fishing trip package
Fisherman Package - per 2 adults
Ovenell's Heritage Inn and Skagit River Guide Service team up to offer you the best the Skagit Valley has to offer. The best lodging available in the valley, coupled with beautiful scenery, and excellent fishing for Salmon, Trout and Steelhead on either the Skagit or Sauk rivers. Included in our package is a 1-night stay in a cozy log cabin with a full day of fishing (8 to 10) hours. Join Pro guide Wayne Ackerlund as he guides you on the Skagit or Sauk Rivers in search of Salmon, Steelhead and Dolly Varden Trout. All fishing gear is provided.
$470.00 Per Couple